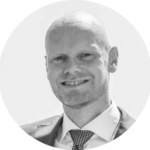 Jesper (born 1974) has more than 15 years of experience working for some of the largest shipowners and operators in Denmark and has performed both commercial and administrative roles with reference to the top management.
Jesper's career in shipping started in D/S Norden in 2003 as Head of Management Support in the drycargo department and later as manager with responsibility for drycargo vessel sale and purchase. In 2011 Jesper joined TORM's sale and purchase department of product tankers and later he transferred to a role within business development and corporate affairs. Jesper left TORM in 2018 and started Corporate Support.
Education: Cand. Merc. Organisation & Strategy (M.Sc.). Certified in project management and as business coach.

To be announced